Main content starts here, tab to start navigating
Menus
Slide 1 of 3
Slide 2 of 3
Slide 3 of 3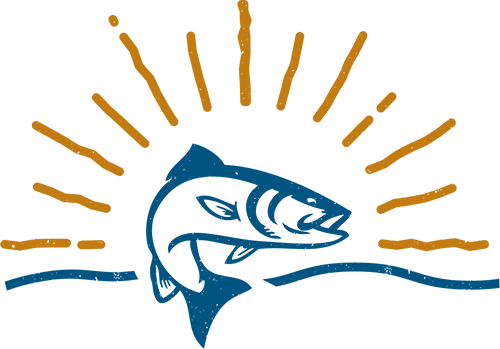 Appetizers
Shrimp Ceviche

citrus-cured vegetables, tortilla chips

$17

gluten free

Fried Calamari

cherry peppers, dijon aioli

$15

Maryland Crab Dip

lump crab, old bay, cream cheese, cheddar cheese, tortilla chips

$20

gluten free

Wings

choice of buffalo, bbq, honey hot, or buttered old bay served with choice of ranch or bleu cheese

$15

gluten free

Clams

spinach, tomatoes, garlic, white wine, butter

$16

Street Corn

grilled, cotija, chili lime dressing

$13

vegetarian

Smoked Salmon Deviled Eggs

topped with salmon roe

$15

gluten free

Loaded Potato Skins

sour cream, cheddar, bacon, chives

$13

gluten free

Oysters on the Half Shell

(6) specialty oyster-of-the-day

$19

gluten free

Jumbo Oishii Shrimp Cocktail

(4) jumbo shrimp, cocktail sauce, lemon

$17

gluten free

Chilled Seafood Platter

little neck clams (12), oishii shrimp (4), rockfish ceviche, oysters (6)

$65

gluten free
Soups & Salads
Maryland Crab

traditional Eastern Shore Maryland crab soup with vegetables

$9 per CUP

$11 per BOWL

Lobster Bisque

creamy classic with chunks of lobster

$9 per CUP

$11 per BOWL

House Salad

mixed greens, cucumber, tomatoes, red onion, balsamic vinaigrette

$7 per SIDE

$13 per ENTREE

gluten free, vegetarian

Caesar Salad

romaine, croutons, parmesan garlic dressing

$7 per SIDE

$12 per ENTREE

vegetarian

Crisp Wedge

bacon, tomatoes, red onion, blue cheese dressing

$13

gluten free

SALAD ADD-ONS

Grilled Chicken $11

Chilled Oishii Shrimp $12

Seared Crab Cake $17

Grilled Salmon $15
Entrees
Twin Crab Cakes

sweet & sour slaw, horseradish mustard aioli, haricot verts

$40

Salmon

grilled, salmon roe, roasted potato corn relish

$26

gluten free

Tomahawk Pork Chop

grilled pork chop, dijon sauce, broccoli gratin

$32

Rockfish

Old Bay cream sauce, grilled asparagus, pomme puree

$27

gluten free

Spinach & Tomato Pasta

penne, garlic, parmesan, lemon butter sauce

$20

vegetarian

Seared Duck Breast

plum sauce, roasted potatoes

$30

gluten free

Scallops

corn succotash, miso butter

$35

gluten free

Whole Bronzino

grilled, apple radish salad

$33

gluten free

8 oz. Filet Mignon

chili-seared spinach, pomme puree, red wine reduction

$45

gluten free

Chicken Pesto Linguine

spinach, cherry tomatoes, balsamic glaze

$25
Sandwiches
Chicken Sandwich

bacon, lettuce, tomato, ranch, brioche

$16

Gouda Bacon Burger

8 oz. angus beef, gouda, habanero bacon jam, lettuce, tomato, red onion served on brioche

$16

Crab Cake Sandwich

lettuce, tomato, jalaeno corn tartar, on brioche

$20

Lobster Roll

mayonnaise, lemon juice, celery, split top New England style bun

$22

Salmon

grilled, jalapeno corn tartar, lettuce, tomato, brioche

$18
Sides
Fries

$6

Mashed Potatoes

$6

gluten free

Green Beans

$9

Broccoli Gratin

$10

Grilled Asparagus

$9

gluten free

Bread

$5

Succotash

$8

gluten free

Spinach

$7

gluten free
Consuming raw or undercooked animal foods may increase your risk of foodborne illness, especially if you have certain underlying medical conditions.
Happy Hour specials are available Monday - Friday from 3-6 PM.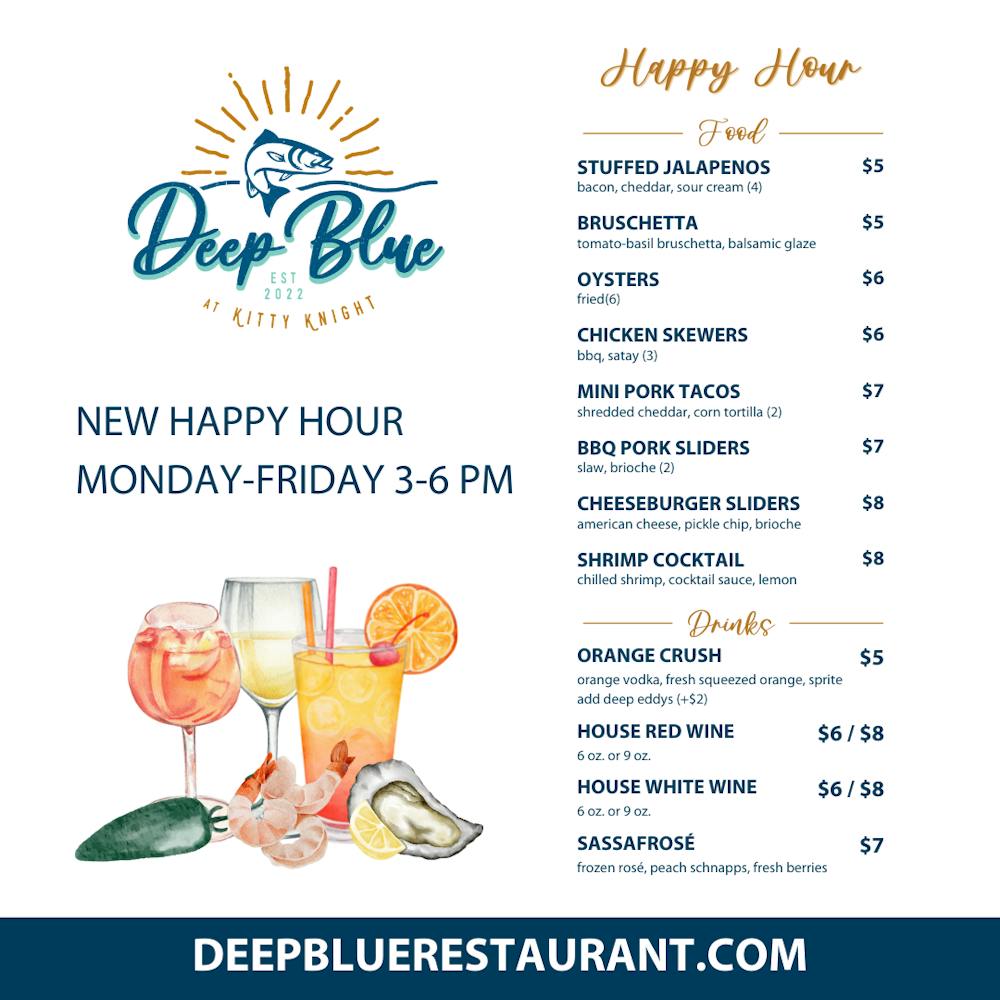 Saturday & Sunday | 10 AM - 2 PM
Starters
SMOKED SALMON DEVILED EGGS

topped with salmon roe

$15

FRIED CALAMARI

cherry peppers, dijon aioli

$20

MARYLAND CRAB DIP

lump crab, old bay, cream cheese, cheddar cheese, tortilla chips GF

$20

WINGS

buffalo, bbq, hot honey, or buttered old bay, served with ranch or bleu cheese GF

$15

MARYLAND CRAB SOUP

traditional eastern shore crab vegetable soup

$9 per cup

$11 per bowl

LOBSTER BISQUE

creamy classic with chunks of lobster GF

$9 per cup

$11 per bowl

HOUSE SALAD

mixed greens, apples, goat cheese, walnuts, balsamic vinaigrette VEGETARIAN GF

$7 per side

$13 per large

CAESAR SALAD

romaine, croutons, parmesan garlic dressing VEGETARIAN

$7 per side

$12 per large
Sandwiches
served with french fries
CRAB CAKE SANDWICH

lettuce, tomato, jalapeno corn tartar, on brioche with french fries

$20

BRUNCH BURGER

lettuce, tomato, bacon, fried egg, with french fries

$16
Brunch Specialties
served with home fries with peppers & onions
LOBSTER BENEDICT

lobster claw meat, poached eggs, english muffins, spinach, hollandaise, old bay, with home fries

$24

FRENCH TOAST

topped with fresh strawberries and vanilla cream sauce, with home fries

$15

BISCUITS & SAUSAGE GRAVY

buttermilk biscuits, with home fries

$16

AVOCADO TOAST

creamy avocado spread, toasted whole grain bread, grilled corn, roasted pepper, lime juice, cotija, with home fries

$15

LEMON BLUEBERRY PANCAKES

stack of 3, with home fries

$15

PANCAKES

2 plain pancakes with home fries

$9

BREAKFAST BURRITO

sausage, egg, potatoes, cheddar cheese, with home fries

$15

BRUNCH HASH

sausage, tomato, egg, potatoes, onion, creamy horseradish sauce, with home fries

$15

BREAKFAST PLATTER

2 eggs, choice of bacon or sausage, toast, with home fries

$15
Brunch Cocktails
SASSAFROSE

frozen rose, peach schnapps, berries

$12

Bloody Mary

cucumber vodka, bloody mary mix, cucumber, olive, cherry tomato, pickle & celery

$9 per single

$20 per pitcher

Mimosa

sparkling wine, fresh orange juice, mixed berries

$8 per single

$20 per pitcher
Served with a children's drink & one side item
For the Kids
Sliders

plain cheeseburger or chicken sliders

$9

Chicken Tenders

two chicken tenders

$9

Spaghetti

spaghetti with red sauce

$9

Mac N Cheese

Kraft Mac and Cheese

$9
Sides
French Fries

Mashed Potatoes

Seasonal Vegetables

Fruit Cup

Applesauce
Visit our new Scoops on the Sassafras ice cream shop! We feature delicious seasonal flavors.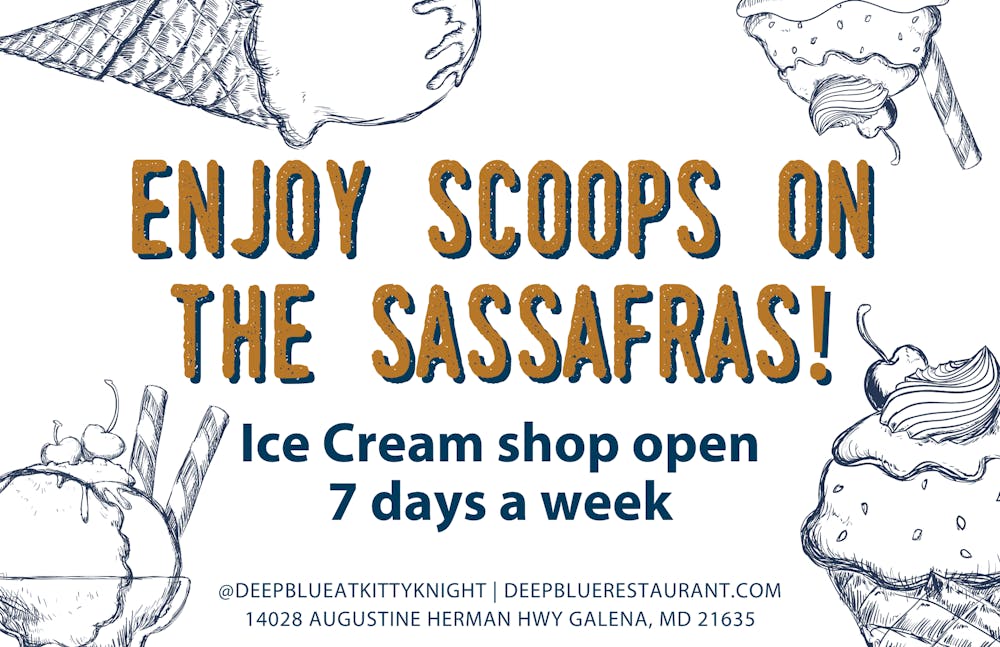 Our ice cream shop will follow typical restaurant hours:
Monday | 12-8 PM
Tuesday | 12- 8 PM
Wednesday | 12-8 PM
Thursday | 12-8 PM
Friday | 12-9 PM
Saturday | 10 AM- 9 PM
Sunday | 10 AM- 8 PM