Main content starts here, tab to start navigating
Menus
Slide 1 of 3
Slide 2 of 3
Slide 3 of 3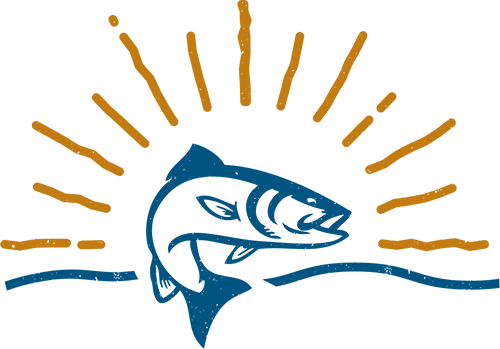 Appetizers
Parmesan Brussel Sprouts

flash-fried, tossed with chorizo, garlic and parmesan

$12

Fried Calamari

buttermilk-fried calamari, served with marinara

$15

gluten free

Crab Dip

creamy dip with lump crab, spinach and artichoke, served with tortilla chips

$16

Tavern Wings

choice of buffalo, bbq or buttered old bay served with celery & choice of ranch or bleu cheese

$14

Baked Oysters

(5) creole seasoned oysters topped with herbs and cheddar cheese

$15

gluten free
Soups & Salads
Maryland Crab

traditional Eastern Shore Maryland crab soup with vegetables

$9 per CUP

$11 per BOWL

gluten free

New England Clam Chowder

traditional New England Clam Chowder with clams, heavy cream, onion and potatoes

$9 per CUP

$11 per BOWL

House Salad

mixed greens, carrot, cucumber, red onion and croutons, tossed in choice of dressing

$6 per SIDE

$10 per ENTREE

vegetarian

Caesar Salad

chopped romaine, grated parmesan and croutons, tossed in creamy caesar dressing

$6 per SIDE

$10 per ENTREE

Harvest Salad

spinach, arugula, roasted sweet potatoes, seasoned goat cheese and sunflower seeds tossed in garlic balsamic vinaigrette

$6 per Side

$10 per Entree

Shore Salad

traditional Caesar salad topped with lump crab, steamed shrimp, hard boiled egg, bacon and cherry tomatoes

$24

SALAD ADD-ONS

Pan Seared Chicken Breast $10

Fried Chicken Breast $10

Steamed Shrimp $10

Crab Cake $16

Salmon $14

Lobster Tail $20
Entrees
Crab Cake

topped with lemon butter cream sauce, served with risotto and squash

$29

Lemon Caper Salmon

pan-seared salmon with lemon caper sauce, served with risotto and squash

$26

gluten free

Fish Basket

fresh fried cod with French fries and coleslaw garnish

$24

Lobster Pot Pie

fresh lobster, blend of mixed vegetables, finished with sherry and topped with buttermilk biscuit

$22

Balsamic Chicken Linguine

pan seared chicken breast, spinach, tomatoes, caramelized onion, pesto, balsamic glaze drizzle, linguine

$22

Shrimp Penne Alfredo

shrimp, broccoli, cherry tomatoes, creamy alfredo sauce, served with breadsticks

$22

Filet Mignon

6 oz. filet mignon topped with compound butter, served with mashed potatoes and broccoli

$36

gluten free

Surf & Turf

6 oz filet mignon, baked lobster tail, lemon butter cream sauce, served with risotto and broccoli

$45

gluten free
Sandwiches
Fried Chicken

spicy mayo, pickles, served on brioche

$16

Gouda Bacon Burger

8 oz. angus beef, gouda, bacon jam, lettuce, tomato, served on brioche

$16

Crab Cake Sandwich

lettuce, tomato, old bay tartar sauce, served on brioche

$20
Sides
Fries

$6

Mashed Potatoes

$6

Risotto

$6

Broccoli

$6

Spinach

$6

Brussel Sprouts

$6

Squash

$6

(6) Breadsticks

$6
Consuming raw or undercooked animal foods may increase your risk of foodborne illness, especially if you have certain underlying medical conditions.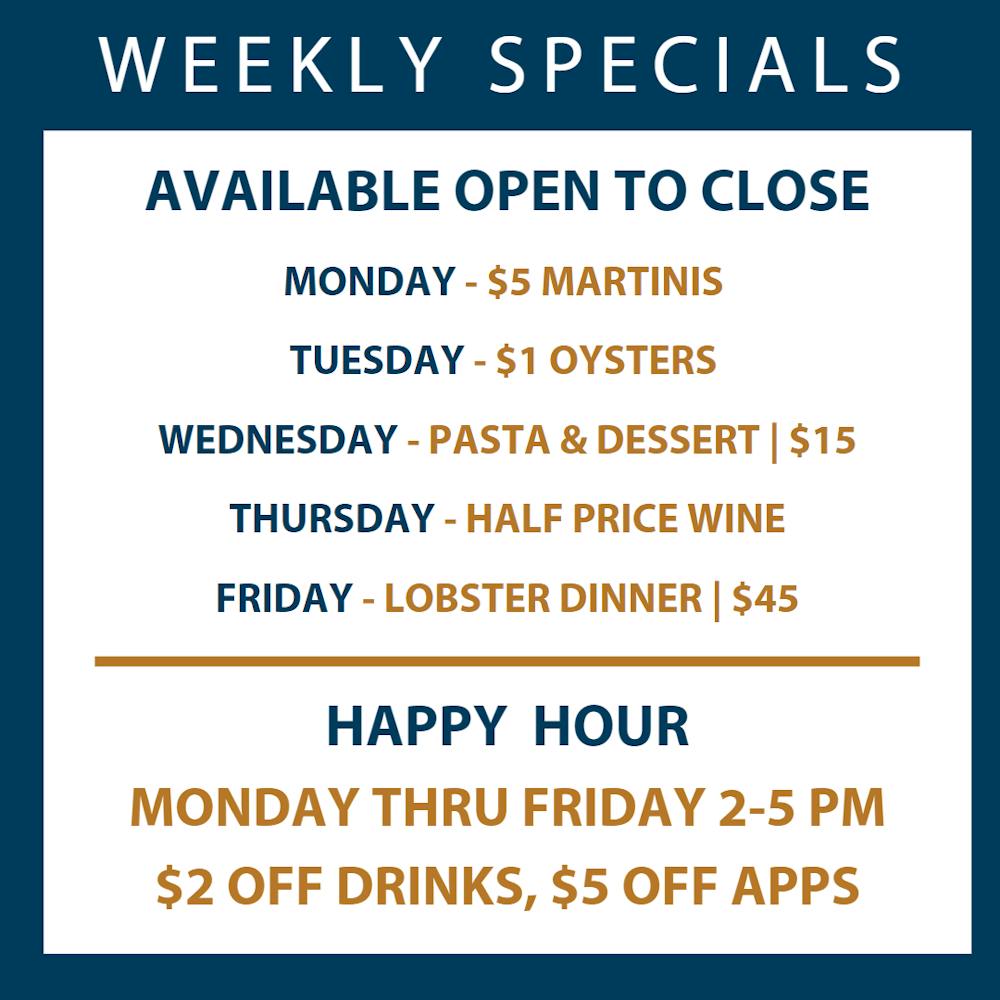 Daily Specials are available all day, open to close.
Monday $5 Martinis- Order any martini for just $5
Tuesday $1 Oysters- Enjoy fried or raw oysters for $1 apiece every Tuesday
Wednesday $15 Pasta & Dessert- Choose one of our pasta dishes and a delicious dessert for $15
Thursday Half Price Wine- Half priced wine by the glass and bottle
Friday Lobster Special- $45 lobster entrée with two side items
Weekend Brunch- Saturday & Sunday 10 AM - 2 PM
Enjoy $15 Pasta Entrée with complimentary dessert every Wednesday from 12 PM to 8 PM. Dine in or carry out!
Saturday & Sunday | 10 AM - 2 PM
Starters
PARMESAN BRUSSEL SPROUTS

flash fried, chorizo, garlic, parmesan

$12

FRIED CALAMARI

buttermilk fried, marinara

$15

CRAB DIP

creamy dip with lump crab, spinach, artichoke served with tortilla chips

$16

TAVERN WINGS

choice of buffalo, bbq or buttered old bay, served with celery & choice of ranch or bleu cheese

$14

MARYLAND CRAB SOUP

traditional eastern shore crab vegetable soup

$9 per cup

$11 per bowl

NEW ENGLAND CLAM CHOWDER

clams, cream, onion, potatoes

$9 per cup

$11 per bowl

HOUSE SALAD

mixed greens, carrot, cucumber, red onion, croutons, choice of dressing

$6 per side

$10 per large

CAESAR SALAD

chopped romaine, grated parmesan, croutons, creamy Caesar dressing

$6 per side

$10 per large
Sandwiches
served with french fries
CRAB CAKE SANDWICH

lettuce, tomato, old bay tartar, with french fries

$20

HOT HONEY CHICKEN BISCUIT

fried chicken on a buttermilk biscuit, hot honey sauce, with french fries

$16

BRUNCH BURGER

lettuce, tomato, bacon, fried egg, with french fries

$16
Brunch Specialties
served with home fries with peppers & onions
LOBSTER BENEDICT

lobster claw meat, poached eggs, english muffins, spinach, hollandaise, old bay, with home fries

$24

FRENCH TOAST

topped with fresh strawberries and vanilla cream sauce, with home fries

$15

BISCUITS & SAUSAGE GRAVY

buttermilk biscuits, with home fries

$16

AVOCADO TOAST

creamy avocado spread, toasted whole grain bread, grilled corn, roasted pepper, lime juice, cotija, with home fries

$15

Lemon Blueberry Pancakes

stack of 3, with home fries

$15

Pancakes

2 plain pancakes with home fries

$9

BREAKFAST BURRITO

sausage, egg, potatoes, cheddar cheese, with home fries

$15

BRUNCH HASH

sausage, tomato, egg, potatoes, onion, creamy horseradish sauce, with home fries

$15

BREAKFAST PLATTER

2 eggs, choice of bacon or sausage, toast, with home fries

$15
Brunch Cocktails
Sassafras Sipper

peach schnapps, white wine, splash of soda, fresh fruit

$9

Very Mary

cucumber vodka, bloody mary mix, cucumber, olive, cherry tomato, pickle & celery

$9 per single

$20 per pitcher

Mary-Mosa

sparkling wine, fresh orange juice, mixed berries

$8 per single

$20 per pitcher
Served with a children's drink & one side item
For the Kids
Sliders

plain cheeseburger or chicken sliders

$9

Chicken Tenders

two chicken tenders

$9

Spaghetti

spaghetti with red sauce

$9

Mac N Cheese

Kraft Mac and Cheese

$9
Sides
French Fries

Mashed Potatoes

Broccoli

Carrot Sticks

Applesauce